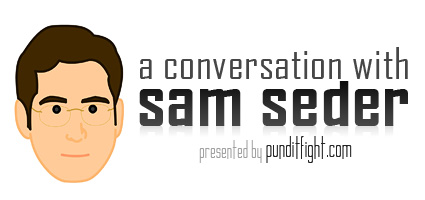 Sam Seder is a liberal talker with a great following on the left blogosphere. He is a pioneer when it comes to integrating and mobilising the online progressive community using the radio medium. He is credited for elevating prominent liberal bloggers like Markos Moulitsas (Founder of The Daily KOs), Atrios, and Digby amongst many others by giving them a regular platform on his show.
During the 2006 midterm elections Sam hosted a weekly segment called 'The Fighting Dems'. Organised with Markos, the segment profiled a range of Military Vets running for office as Democrats. Some candidates ran in Primaries challenging "less liberal" Democratic incumbents. The initiative helped propel military Democrats like Jim Webb into office. Sam was arguably the first national broadcaster to spotlight Senator Webb.
Whilst Sam has enjoyed great support from his audience, he has had a tumultuous career as a talker. He has had 3 different shows on AirAmerica ('The Majority Report', 'The Sam Seder Show' and 'Seder on Sundays') with talks of a fourth. It's possibly attributed to his outspokeness - he's been suspended for calling out a stablemate and received some grief over an on-air feud with a prominent liberal talker. Perhaps it could be something else entirely, The Boston Globe did see it fit to title it's feature profile of Sam "Failure is an option".
In our conversation we discuss the differences between the Liberal and Conservative infrastructure (ThinkTanks/ Talk radio/ Blogosphere). We Talk about the price of being outspoken and his opinion of conservative talkers Rush Limbaugh and Sean Hannity.
Enjoy!
>> Read the full Sam Seder interview transcript - Part 1
>> Read the full Sam Seder interview transcript - Part 2